NEET (AIPMT)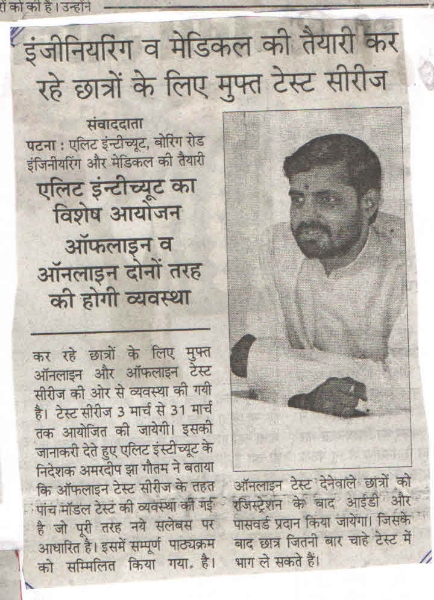 Every year CBSE conducts AIPMT- All India Pre-Medical Pre-Dental Entrance Test now NEET (National Eligibility cum Entrance Test or NEET-UG) for admission in various medical & dental colleges for MBBS & BDS courses. The people, who want to be a doctor, must have to clear this entrance test – NEET (AIPMT).
Eligibility & Education Criteria to appear in NEET (AIPMT)
Candidate must be 12th class appearing or have passed 12th Standard (10+2 Pattern) with Physics, Chemistry, Biology as main subjects or equivalent or higher examination from a recognized Board or University for appearing in NEET (AIPMT) exam.
The candidates' age should be between 17 to 25 years at the time of admission. The upper age limit shall be relaxed by a period of 5 (five) years for the candidates of Scheduled Castes/ Scheduled Tribes/Other Backward Classes.
NEET (AIPMT)-2017 Entrance Test Date
National Eligibility cum Entrance Test or NEET-UG (AIPMT), 2017 will be conducted on Sunday the 07th May 2017 from 10:00 am to 01:00 pm. The duration of paper would be 3 hours.
Note: The schedule will remain unaltered even if the above date is declared a public holiday.
Pattern of NEET (AIPMT)-2017
(i) Pattern of the Entrance Test:-
The Entrance Test shall consist of one paper containing 180 objective type questions (four options with single correct answer) from Physics, Chemistry and Biology (Botany & Zoology) to be answered on the specially designed machine-gradable sheet using Ball Point Pen only. The duration of paper would be 03 hours.
(ii) Language of the Question Papers:-
Candidates can opt for Question Paper either in English or in Hindi.
Option of Question Paper should be exercised while filling in the application form and the option once exercised by candidates cannot be changed later.
Candidates opting for English would be provided Test Booklet in English only and the candidates opt for Hindi would be provided Test Booklet in both Hindi and English, i.e., Bilingual.
In case of any ambiguity in translation of any of the questions, its English version shall be treated as final.
Scoring and Marking
(a) Each item carries 4 marks. For each correct response the candidate will get 4 marks. For each incorrect response one mark will be deducted from the total score. No deduction from the total score will, however, be made if no response is indicated for an item in the answer sheet. The candidates are advised not to attempt such item in answer sheet, if they are not sure of the correct response. More than one answer indicated a question will be deemed as incorrect response and will be negatively marked.
(b) For the purpose of evaluation, the Test Booklet code as printed in the Answer Sheet on side-2 will be accepted as final.
NEET (AIPMT) Website: – www.aipmt.nic.in
Admit Card
The CBSE will provide the facility of downloading Admit Cards of NEET (AIPMT) – 2017 along with an encloser of a format for pasting of Postcard size photograph on the Board's website. Candidates are required to download the admit cards from the website and follow the instructions given therein. Candidate may please note that admit cards will not be sent by the post. The schedule of hosting of admit cards on website www.aipmt.nic.in will be the first week of April 2017.
NEET (AIPMT)-2017 Result
The Central Board of Secondary Education will conduct the NEET (AIPMT) Examination, evaluate the Answer Sheets and likely to declare the result by first week of June, 2016 and the same will be hosted on website www.aipmt.nic.in.
ELITE Institute for NEET (AIPMT) – Medical Entrance Exams Preparation
The candidates who are going to apply for National Eligibility cum Entrance Test or NEET-UG – (AIPMT), to such aspirants ELITE Institute offers coaching for NEET (AIPMT) exams preparation. Along with the study materials, best faculties, online test series and regular classroom program, we also provide such useful information like Eligibility Criteria, exams pattern, tips and suggestion with all latest NEET (AIPMT) updates.